Aurelia Ignite Nitrile Examination Gloves
The Aurelia Ignite Nitrile Examination Gloves protect hands and prevents contamination during examinations. A 7mm construction makes them comfortable and durable while offering greater tensile strength and protection than Latex and Vinyl. Their bright orange colour is perfect for high visibility, and their added texture provides enhanced gripping and dexterity. Aurelia Ignite Nitrile Examination Gloves gloves are resistant to most oils, making them ideal for use in automotive industries.
7mil Heavy Duty Industrial Nitrile
Diamond Textured For Advanced Gripping
Long-Lasting Durability
Latex Free
Ambidextrous
AQL 1.5
Pack of 100 Gloves for M & L size
Pack of 90 Gloves for XL & XXL
Aurelia Ignite Gloves are sold in a pack of 10 no boxes.
View Aurelia Ignite Examination Gloves Size Guide
View Aurelia Ignite Examination Gloves Conformity PDF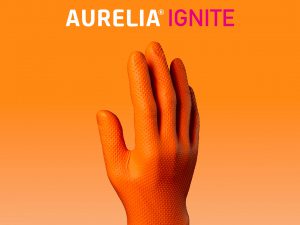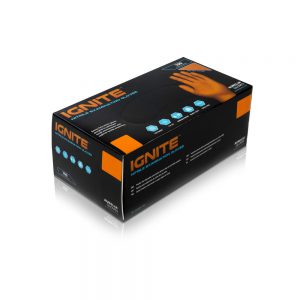 AURELIA – MANUFACTURER OF THE AURELIA IGNITE EXAMINATION GLOVES
Aurelia Gloves is a Supermax Healthcare brand and the world's 2nd largest manufacturer of disposable examination gloves.
Founded over 30 years ago, the Supermax Healthcare Group has become one of the world's largest and most recognised disposable glove manufacturers, fronted by the bestselling brand in the US and the fastest-growing glove brand in Europe, Aurelia.
Founded in 1987 by Malaysian nationals Dato' Seri Stanley Thai and his wife, Datin Seri Cheryl Tan, as a trading business distributing disposable gloves. With the success of their distribution model, in 1989, they purchased their own manufacturing facility, with an emphasis and focus on manufacturing premium disposable gloves.
Supermax Healthcare has been cemented as one of the world-leading disposable glove manufacturers, with 26 billion gloves manufactured annually from its 12 manufacturing factories based in Malaysia, distributing to over 160 countries globally.
WHY YOU NEED AURELIA IGNITE NITRILE GLOVES WHEN WORKING ON CARS
The right tool for the job—it's not always what you put into your hands. Sometimes, it's what you put on them.
If you're a mechanic, you know the importance of examination gloves. When working on cars, protecting your hands from oil and other debris is essential. That's where examination gloves come in. They provide a barrier between your hands and the dirt and grease that can cause skin irritation or infection. This blog post will discuss the importance of examination gloves in the automotive industry and why you should always wear them when working on cars!
You should consider several factors when selecting the best examination gloves for your needs. Some important considerations include material type, fit, and thickness. For example, if you work with heavy-duty chemicals or solvents, then it's essential to choose a durable material, such as nitrile. Additionally, you should consider the glove's fit, as ill-fitting gloves can compromise grip and dexterity.
You should also consider using Powder Free gloves. First of all, they are less messy and don't leave residue on surfaces, hands and clothing. They also offer strength and resilience. The National Institute of Occupational Safety and Health (NIOSH) recently issued a safety alert recommending using powder-free, reduced protein-containing latex gloves to reduce exposure to natural latex proteins (allergens). This makes them more skin-friendly, far more robust, and a lot more versatile. Non-powdered gloves are better suited to the food and mechanics industries.
Whether you're a mechanic, auto body professional, or just someone who enjoys working on cars as a hobby, choosing the right examination gloves is essential to protecting your hands and ensuring safe, efficient work. So the next time you head into the garage, be sure to protect yourself with high-quality examination gloves from Aurelia at Engine Clean Solutions!
OUTSIDE THE UK AND IRELAND
If you would like to discuss bulk quantities or shipments outside of the UK & Ireland, please email mark@enginecsl.com